I am going to do something on this blog that I normally don't do, which is to write a review/recommendation/letter of approval. The Review is for Simon Hanselmann's "Life Zone" and it is my "Comic of the Year 2013". Something may be printed in the next two months that may usurp this title's position, but I highly doubt it.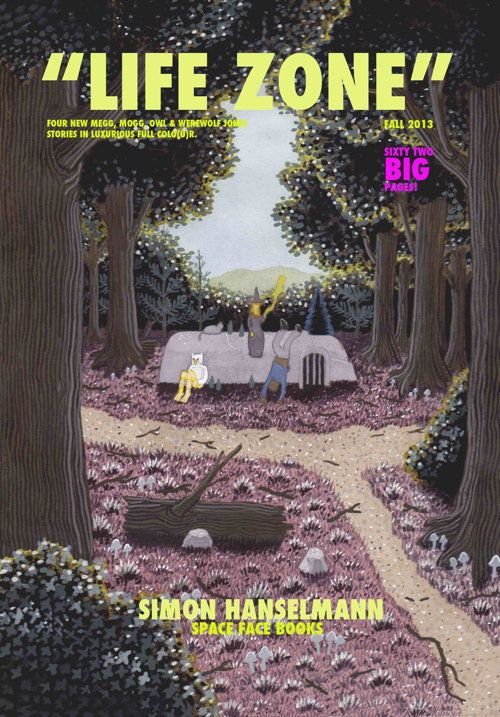 Life Zone, by Simon Hanselmann, is a well executed, expertly painted and naturally paced slice of life dramedy that straddles the line between the mundane and the absurd. Like the best sitcoms on television, it's characters represent emotions or personality stereotypes; Werewolf Jones is the overbearing bully with potential mental problems, Megg is the vacant "hot chick" whom the gang all have crushes on, Mogg the cat is the wisecracking stoner and Owl is the only one barely keeping the gang together with his practical and anxious maturity. The plots are formulaic; Owl gives the gang a job or needs to impress a date, the gang screws things up and hilarity insures. But where "Life Zone" differs from an episode of "It's Always Sunny in Philedelphia" or "the Simpsons" is in the desperate personal details of the characters lives and the subtle, almost melancholy, plot twists. Everything is a drug influenced laugh track until Mogg the cat confesses just how unsatisfied he is with his pointless, unemployed life. Listening to a common house cat express existential ennui is simultaneously hilarious and as painfully relatable as any Chris Ware story. The book's final scene becomes almost tranquil as Mogg and Megg notice a beautiful star filled sky on their way to a former high school tormenter's engagement party. Like the best Woody Allen films or your favorite "Freaks and Geeks" episode, Life Zone will make you laugh and cry.
The artwork is also something of a break through in the realm of what I am going to call "art comics". I know this sounds derogatory because it might imply the latest issue of Spider-Man isn't art (this is not what I am saying), so allow me to go into depth of Hanselmann's clear artistic influences.
Chris Forgues' (author of POWR MASTRS") "Buzz Sawyer" line is very apparent as an influence to Hanselmann. The pencil handwritten typography on both the table of contents and liner notes is clearly an ode to Fort Thunder era book publishing. It is also very apparent that Hanselmann is familiar with the work of Ben Jones. A cold, geometric depiction of perspective is everywhere and the whole concept of ridiculous, outlandish designed characters having roommate problems is a staple of Jone's "Problem Solverz".
Hanselmann starts where these artists left off and goes a step further, thus forwarding the medium of comic books. While his work is comical, it is less ironic and casual than CF or Jones. There are very few rendering mistakes in Life Zone, if any. Visible eraser marks are not in it and the character's proportions are consistent. This is either an advancement or a set back depending on what you are looking for in art; while Hanselmann's illustrations are less DIY in aesthetic than the handmade triumphs of the Golden Age of Fort Thunder, his end result is the illusion of a self contained universe ready to be picked up by Adult Swim. Hanselmann's illustrations are also watercolored on bristol as opposed to Jone's digital coloring or CF's paint on computer paper that are more often than not engulfed by large portions of white surface. Hanselmann's color job hits all four corners of the panel and the effect makes all the difference, putting him in a league of his own. Hanselmann barely uses a computer, which adds to the intimate nature of the object.
I laughed out loud while reading this on multiple occasions. I marveled at the the iconic pointillist book cover. I tripped out to its table of contents. But most importantly, Hanselmann's emphasis on the humanity of the common stoner is what keeps this book all together. A complex range of reactions occurs while reading about these characters, which is the sign of a considered, complex and carefully executed comic book. This is why LIFE ZONE is my "comic book of the year". Highest Recommendations.
"Life Zone" can be picked up here. ---->
http://spacefacebooks.com/

In other news, the
Bedford and Bowery Blog
wrote a nice write up about Comic Arts Brooklyn and a nice photo of me at my table was used!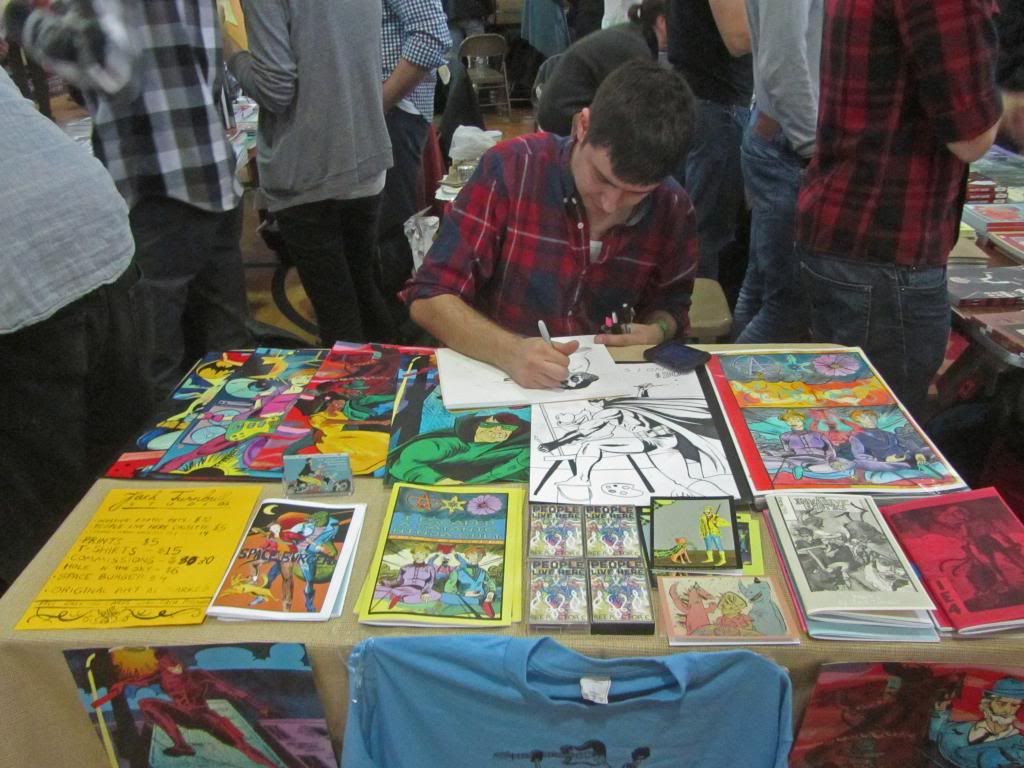 So far I'm not signed up for any conventions in the future, but once I see where I'm going I'll post all the information here. Cheers and thanks again for all the support.